Whether you're just in the beginning and thinking about hiring a photographer (in which case check here for things to do before hiring a personal branding photographer) or maybe you've already hired one (hopefully it's me, aye??) there are several things you can do to prepare for a personal branding photoshoot.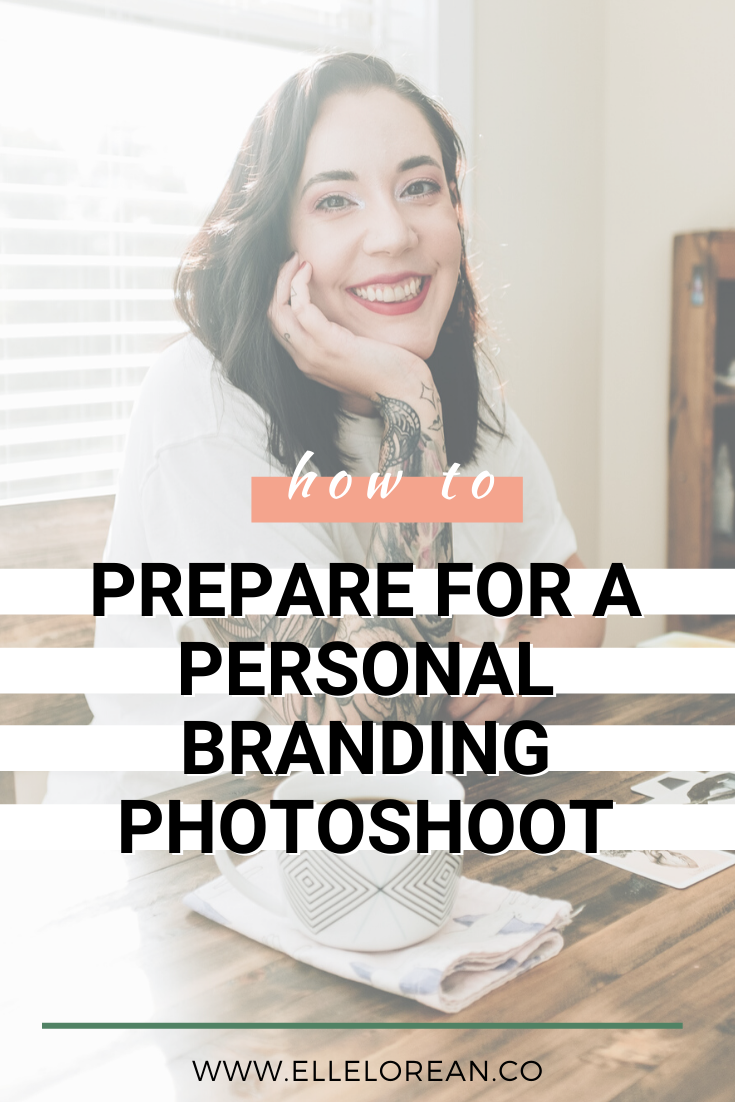 Create an Inspiration Board
Mood boards, or inspiration boards, are a great tool to utilize in your communication with your photographer. Use a platform like Pinterest to collect images that inspire you, that spark your interest, and have the look and feel your brand does.
You can create sections within your boards for things like location or maybe particular poses you like. It's a good idea to write in the description why you saved that pin as a reminder for yourself and as a helpful note for your photographer.
Read more here about mood boards.
Fill Out a Brand Questionnaire
If you're in the early stages of your business, you may still be getting to know each other. Brand Questionnaire's can help you figure out more about your brand, your values, and your audience. There are some out there on the interwebs you can download for free.
If you end up booking a photo session with me, this is something I supply all of my clients and we go over it in one of our consultations leading up to your session.
Even if you've been in business for a while, things may have changed since you last did a check-up on your brand. This can be a useful way for understanding your brand a bit better and the know we more about your brand–the more on brand we can be with your photos.
Plan Your Location
Choosing an appropriate location for your photo shoot is VITAL to producing quality images that you'll want to keep using over and over again.
You want to consider how you'll be using the images, the tone and feel of your brand, and the available light (if photographing indoors). If you want to use an indoor location, make sure your photographer is aware of the available light. Check to make sure they have the appropriate light equipment if it's needed.
Suggestions of locations include:
Your Office or Place of Work, Local Café, Town or City Centre, Parks or Gardens, Your Home
I'll cover location in a lot more detail in a future post.
What to Wear
Clothes have the potential to tell a visual story of what your brand is all about. They should reflect your personality and make you feel confident and comfortable.
I've read quite a few "what to wear" guides that emphasize wearing flattering clothes or clothes that show off your figure. WEAR THE BAGGIEST, OVERSIZED T-SHIRT IF YOU WANT. I'm not here to make you into someone you're not. Wear what's right for you. Wear what speaks to you. DRESS FOR FUCKING COMFORT IF THAT'S YOU.
If you're in the market for a personal brand photographer, then chances are you ARE your brand. So dressing in a way that reflects you authentically is important.
Choose clothes that make you feel good, period.
What About Props?
Props have the potential to add a lot to your brand visuals and to tell a story. The primary purpose of personal branding photography is to tell a visual story about who you are, what your business is/does, how you work and what your values are.
Props are any object within a photograph that you interact with or are passively in the scene of the image. They can range from books, pens, artwork, plants, food/drinks to whatever your imagination can think of.
Props are a great way to bring in your brand colours if you have them. It can be a useful way to create consistency in your images by colour pulling and using them in different ways in different images.
Oh dear god, posing…
Yep. I get it. The majority of people I work with say they hate having their photo taken. I try my best to make the process as painless as possible and for you to actually enjoy yourself. Yes, it's possible.
Something you can do leading up to your personal branding photoshoot is to practice. Go stand in front of a mirror and actually practice some of the poses you saved on your inspiration board. How do they sit with you?
Posing for photos can be incredibly intimidating, but one of the joys of working with a professional photographer is that we're here to guide you and help you look your best.
Read more for tips to better posing here.
Create a Photoshoot Checklist
Things can get super busy on the day of a photoshoot. While having a mental checklist of all of the things you want to photograph is a good start, I find writing them down to be really beneficial.
Ultimately, we want the photos from your personal branding photoshoot to last you anywhere between 3 months – 1 year of promotion.
We can achieve this much more efficiently if we have a plan and a checklist for our photoshoot.
Read more about creating a photoshoot plan and checklist here.
Hopefully you find all of this helpful and if I missed anything you feel should be included, let me know!