Things can get super busy on the day of a photoshoot. While having a mental checklist of all of the things you want to photograph is a good start, I find writing them down to be really beneficial.
Ultimately, we want the photos from your personal branding photoshoot to last you anywhere between 3 months – 1 year of promotion.
We can achieve this much more efficiently if we have a plan and a checklist for our photoshoot.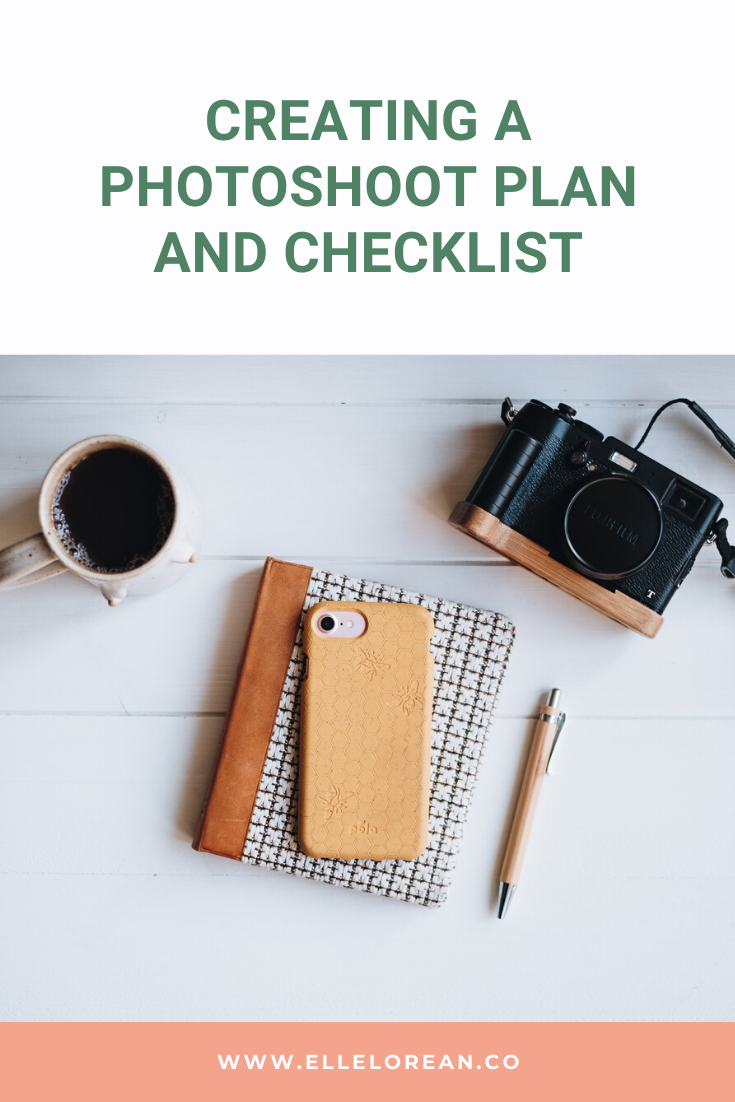 A photoshoot plan begins with an examination of your business and brand.
Every brand needs a clear vision before hiring a photographer. What are the values and goals of your business? Who is your ideal client?
Knowing these things will help us to formulate our photoshoot plan and checklist.
Next, we take a look at a typical working day. What do you do first thing after waking up? What starts your day? Where do you work? Do you have any routines or rituals? Write down a list of your average working day from waking up in the morning to going to bed for the night. If you don't have a typical working day, meaning the work you do varies drastically from day to day, write down the big things that you do and then the little things that each of those days have in common. Do you take a break to walk the dog every day, etc.
Once we know our brand values, our ideal client, and our typical work day we can get to the nitty gritty of planning the actual photoshoot checklist: a list of the main shots that you want to capture to reflect the essence of your brand and brand personality.
Our checklist always starts with our MUST HAVE images. For example, if you're designing your website and you know that the front page has a big header image with text to the left, then we want a photo with negative space for that writing on the left.
If you've got an upcoming course you're about to launch, but don't have imagery for it yet, then we add those to our "must have" list.
Every client that I work with receives an invite to a shared online sheet to input details about the images they want to capture. I find that the more detailed a client is with this sheet, the more we accomplish on the day and the more satisfied the client feels at the end. For every image, we fill out: short description, image inspiration (link to a pinterest image, etc), location description, outfit, props, and image orientation.
An example photoshoot plan and checklist may look like this:
Business: Makes kid's clothing accessories inspired by nature
Brand Values: Sustainable, Imaginative, Playful
Ideal Client: Has kids, cares about the environment and planet
Typical working day: Wake up, drink tea, sort the kids out, check emails, check to-do list, prepare work space, sew, package orders
From this example, we could devise the following photoshoot checklist as an option:
Walking/being in nature
In-office photos at computer, writing to-do lists
Lifestyle images drinking tea, preparing work space
Behind the scenes sewing, packaging orders
For each of these items on the list, we would aim to capture a variety of things (time dependent). If you have a clear idea of how you want to use a specific image (for example, you need a specific image for a launch or landing page of your website) then we prioritize that shot. A mix of wide and closeups for each item on the list also adds more variety.
Creating a mood board for your photoshoot is one way to bring together ideas in the beginning stages. You can then narrow your vision down to a few items depending on how long your photoshoot is. I tend to over plan just to be safe so we're never wondering "well, what now?"