This is always a really difficult question for me to answer as it is entirely subjective. I can't give you any hard and fast rules. There's no right or wrong in regards to what to wear. There are certain things from a technical photography point of view I would avoid, but everything is pretty much fair game.
What I can do is offer a little bit of guidance to hopefully make the choice a little easier for you. Some suggestions to make your photoshoot run a bit more efficiently and the photos captured a longer life so that you can use them over and over again no matter the season or trends.
Pin for later: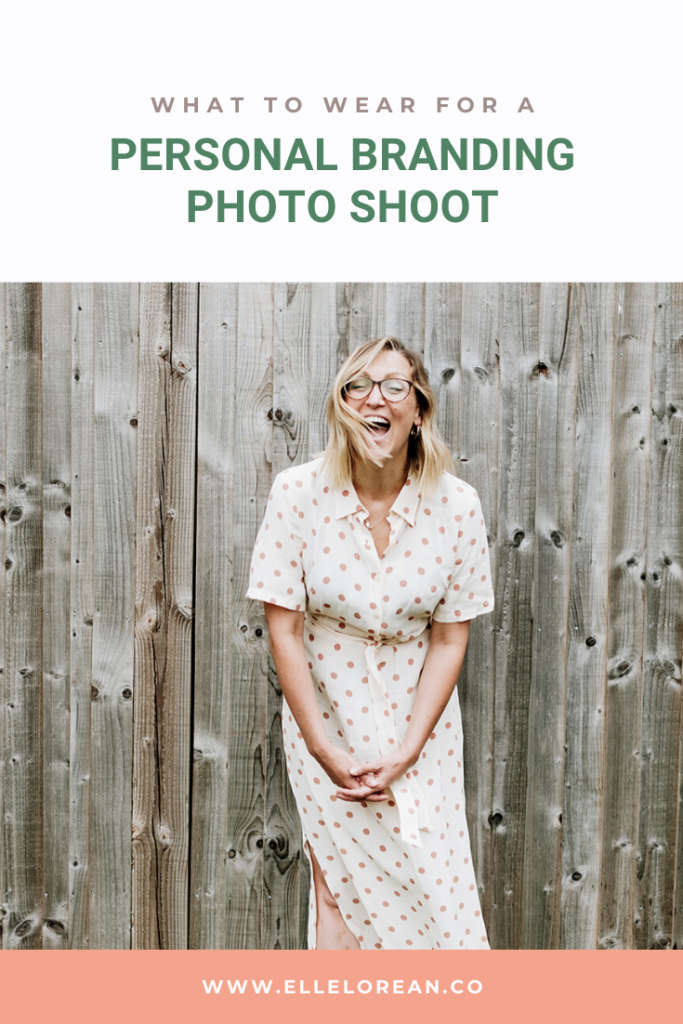 Wear what makes you feel good
We all have insecurities and things about ourselves we perceive to be flaws. All of these things can flood out during a photoshoot leaving you feeling self-conscious. This is why it's important to wear clothes that make you feel good. Full stop.
Have a favourite oversized jumper that makes you feel super cosy inside? Wear it. Want to use your photoshoot as a reason and/or validation to go out shopping? Do it.
If you're comfortable in your clothes, you'll feel more at ease during your photoshoot.
Incorporate brand colours
Most people and brands have a brand colour palette. You might like to incorporate some of your brand colours into your clothing choices. This doesn't mean that if your brand colours are orange and blue that you can *only* wear those colours. It means that maybe you throw an orange scarf into your look or wear that blue top you love.
Plan for multiple outfits
Depending on the length of your photoshoot you may like to plan for multiple outfits. I aim to provide my clients with images that they're able to use for roughly 3 months – 1 year of promotion. Having multiple outfits increases the longevity of the images. In this sense, you may like to avoid anything too trend based or seasonal. That way you can still be using those images you took over the summer during the cold winter months. The exception to this, of course, would be if you book multiple shoots over the course of a year like the Seasonal Branding Package that I offer.
In a typical one hour photoshoot, I recommend clients having two different outfits planned. The more hours, the more outfits.
Accessories
This is where we can increase the longevity of our photos even further. The two outfits you previously planned can now turn into three to five depending on the right accessories.
If you stick to quite a neutral outfit with a sleeveless or short sleeves shirt, you can completely change a look by throwing a cardigan on for a few pictures and then swapping that out for a coat. Pick a selection of scarves or hats or glasses that you can use. Maybe you wear some statement jewelry in some pictures and none in other pictures. With the right accessories, you can completely change the look of your outfit and make it appear as if your images were taken on different days and even throughout the year. Just make sure your hair doesn't change too much throughout the year! Seriously, though…this is what prevents me from dying my hair (well, that and laziness).
Avoid logos and neon colours
This photoshoot is about you and your brand. We don't want to feature another brands logo in images that are meant to make your business shine!
Even if your brand colours include neons, we want to avoid wearing them. This is more from a photographic standpoint than anything else. When you wear neon colours, the colour is reflected off of the piece of clothing and onto your skin. Your bright neon pink shirt is now giving you a bright pink face and arms. We don't want that. There are other ways to bring in your brand colours such as through use of props and location.
BE YOU.
Finally, be yourself. Wear what feels right for you. All of the above guidance is just that: guidance. There are no hard and fast rules when it comes to what to wear. You know your brand and business best. Ultimately, no one can decide what's better to wear than you can.